Instructor Certification Guide
1. You must work on the full De Campo 1-2-3 Original curriculum until you are confident about your movement. We are talking at least 2 months of serious solo training here.
2. Seek a private session (online or in person) with Maestro Paolo Pagaling or any of our certified instructors for an in-depth training on the curriculum. Master Jomalin will also check on your progress. This can take several more months.
3. Maestro Pagaling and Master Jomalin will determine if you are ready to take the Instructor exam. You will then be scheduled for an examination.
4. During exam day, you are required to lead a class of fellow online students after which you will demonstrate and explain in detail each techniques from Elementary, High School, and College in the presence of fellow practitioners and panel of instructors.
5. You are most likely to pass the test once you have been allowed to take it. And once certified, you are then authorized to teach the course and promote students up to Level 7.
6. When you have promoted a student to Level 7 Hanas (Basic or Assistant Instructor), you are then eligible for promotion for Level II Magtutudlo. You can only qualify to Level II Magtutudlo if your student passed the exam for Level I Magtutudlo.
7. Once promoted to Level II Magtutudlo, you and your apprentice are expected to grow your tribe and start promoting students and instructors.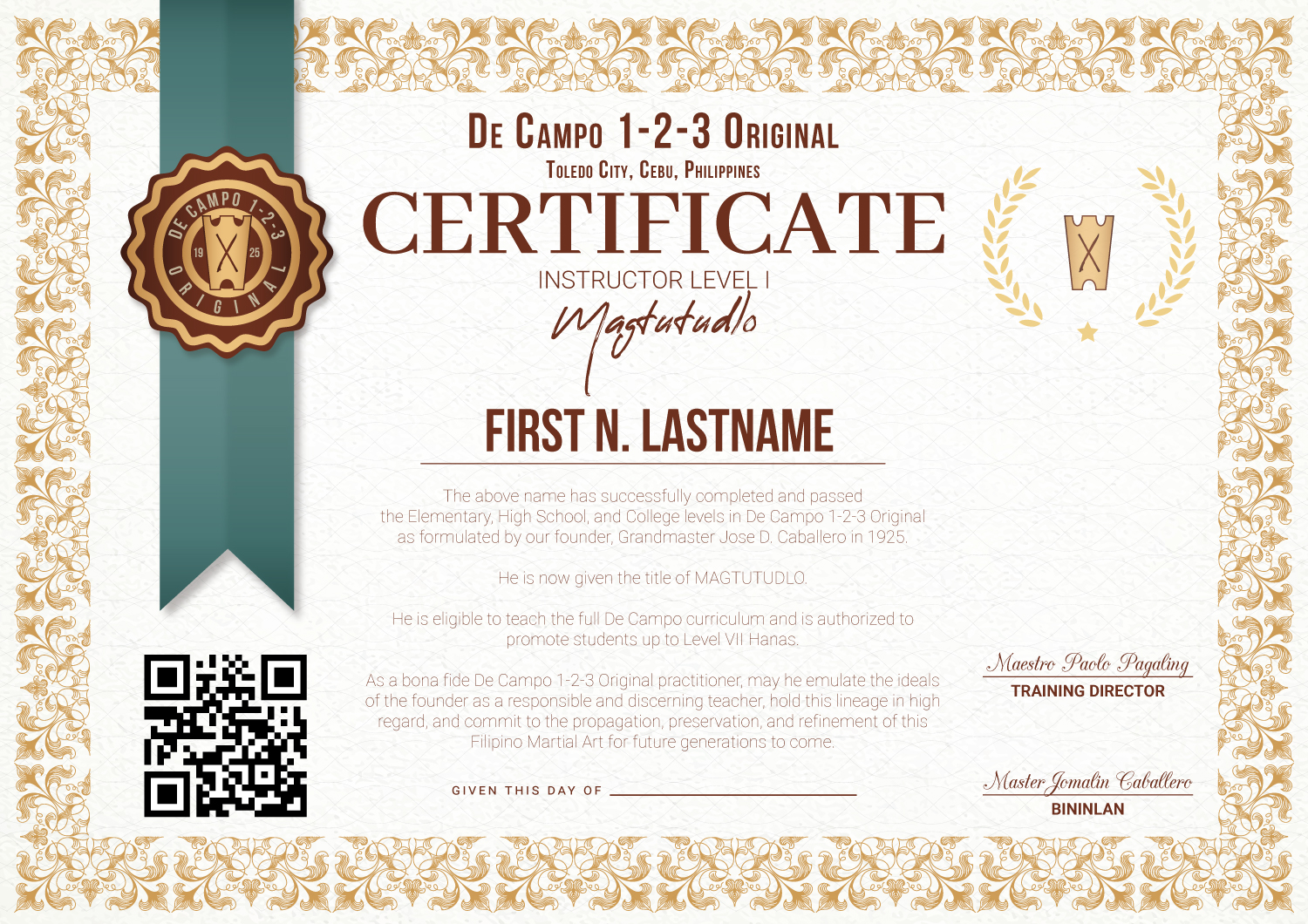 Binlod – Level 1
– Fundamentals
– Group 1 Abecedario
– Group 2 De Alfavito
– Group 3 Horizontal
– Group 4 Serrada
– Group 5 Abierta
Binlod – Level 2
– Fundamentals
– Primary Lessons (Groups 1-5)
– Group 6 De Campo Original
– Group 7 Redondo Y Redonda
– Elementary Mixing
Binlod – Level 3
– Elementary
– Group 8 Dos Manos Dos Largos
– Group 9 De Cadena De Cuerdas
Maantigo – Level 4
– Elementary
– Group 8 Dos Manos Dos Largos
– Group 9 De Cadena De Cuerdas
– Group 10 Hagad Hubad Original
Maantigo – Level 5
– Elementary
– High School Group (8, 9, and 10)
– High School Mixing
Maantigo – Level 6
– Elementary
– High School
– 1-2 Combos
– 1-2-3 Combos
– 1-2-3-4 Combos
Hanas – Level 7
– Elementary
– High School
– College Combos
– College 7 Specials
Magtutudlo – Level I
– Elementary
– High School
– College
– Paspas
Magtutudlo – Level II
– Full De Campo
– Paspas
– Combat Strategy
Magtutudlo – Level III
– Full De Campo
– Paspas
– Combat Strategy
– Blade Work
Maestro – Level IV
– Full De Campo
– Paspas
– Combat Strategy
– Blade Work
– Specialization (10 Combos)
Maestro – Level V
– Full De Campo
– Paspas
– Combat Strategy
– Blade Work
– Specialization (20 Combos)
Maestro – Level VI
– Full De Campo
– Paspas
– Combat Strategy
– Blade Work
– Specialization (30 Combos)
Propesor – Level VII
– Mastery
It Takes Patience and Determination
Becoming an Instructor
Learn the Entire De Campo Curriculum
AT THE COMFORT OF YOUR OWN PLACE